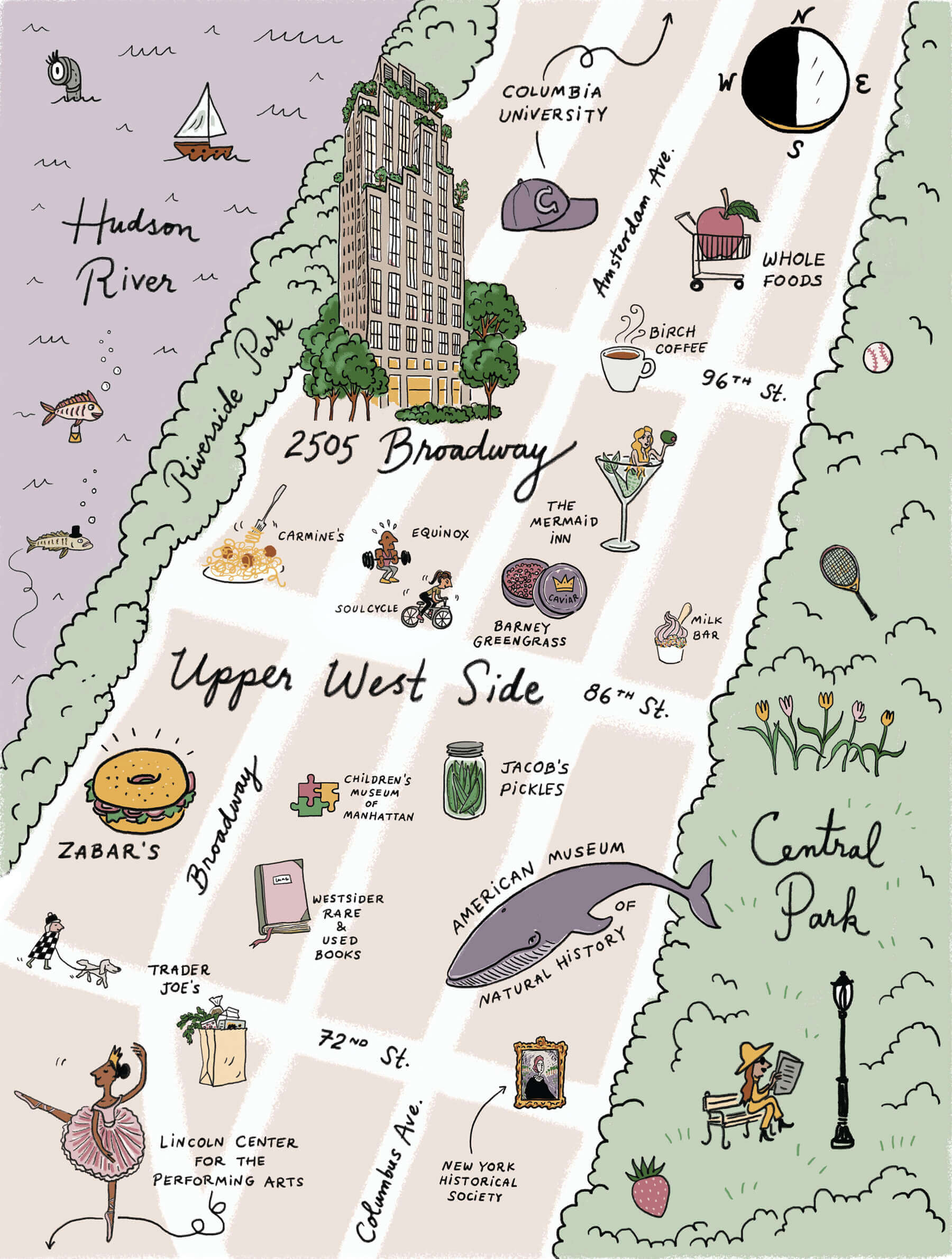 A TANTALIZING TOUR
Dining
Zabar's
Bluestone Lane
Buceo 95
Fairway Cafe
North Miznon
Nice Matin
Peacefood Cafe
The Mermaid Inn
Tom's Restaurant
Smoke Jazz & Supper Club
Barney Greengrass
Shopping
BocNYC
Frank Stella Clothier
Jacadi Paris
Lululemon
Schweitzer Linen
Trader Joe's
Whole Foods
Culture
Beacon Theatre
Children's Museum of Manhattan
Columbia University
Lincoln Center
Museum of Natural History
New-York Historical Society
Pomander Walk
Symphony Space
Parks
Arthur Ross Terrace
Central Park
Hippo Playground
Lotus Garden
Riverside Park
Theodore Roosevelt Park
Verdi Square
West Side Community Garden
Play
Birch Coffee
Equinox
Levain Bakery
Milk Bar
SoulCycle
West Side Kids
Westsider Rare & Used Books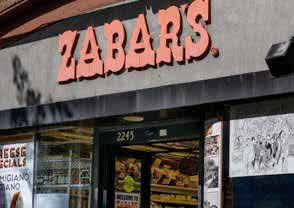 Zabar's
Zabar's logo is as famous as its lox. It's an emporium with over 80 years of history and expertise in the same location. Think bagels and babka. Think specialty caviar and crackers—plus the perfect picnic basket to put them in.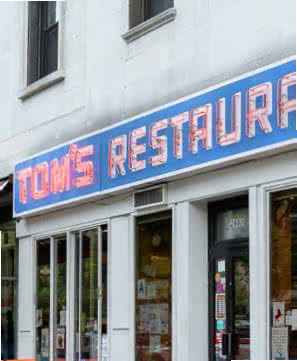 Tom's Restaurant
Tom's is where the Seinfeld gang "talked about nothing" for nine seasons and has been a go-to spot for families and students far longer than that. Family owned and a local staple since the 1940s.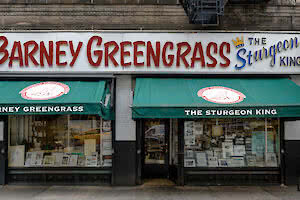 Barney Greengrass
Classic Upper West Side dishes for the curious and the nostalgic. Weekend brunch may include chicken liver as well as a celebrity sighting. In the words of the Michelin Guide, "what's not to love about this old-school delicatessen?"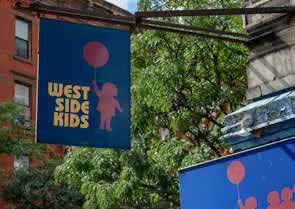 West Side Kids
The Upper West Side is all about family so where better to find a toy store run by a mother and daughter team? With a comprehensive selection of curated toys and gifts, this store has anything a kid can dream of—including a knowledgeable staff to help them choose.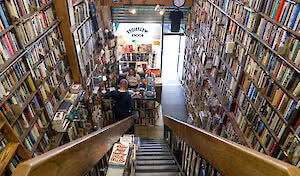 Westsider Rare & Used Books
If you want to read what everyone else is reading, head to the Barnes & Noble a block away; this is where you go if you're looking for the eclectic as well as the joy of discovering something unexpected. Hand-lettered signs announce sections, piles of books are everywhere, and Dorian or one of his well-read clerks will be happy to find you a new treasure to take home.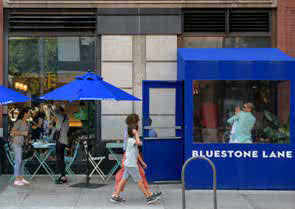 Bluestone Lane
Known for great coffee and their Australian roots, this stunning outpost is Bluestone Lane's first full restaurant in NYC. Beachy banquettes inside plus sidewalk seating outdoors are the perfect place to "park" and enjoy their Brekkie Board and signature cocktails.

Buceo 95
They say if you close your eyes, you'll feel like you're in Spain, but I'd rather enjoy the elegant ambience and Buceo's relaxed and romantic vibe. The wine list is extensive and inspired, eclipsed only by the Tapas itself. Don't miss the Coles de Bruselas.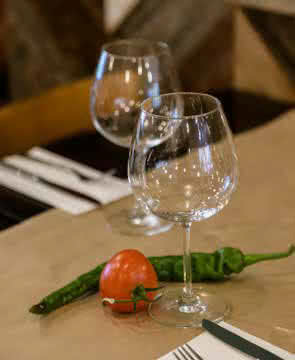 North Miznon
Celebrity chef Eyal Shani started in Tel Aviv before coming to New York. With two stunning stories and an outdoor terrace, Miznon North is the perfect backdrop for his playful creations.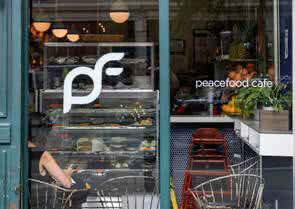 Peacefood Cafe
Eric and Peter are so passionate about spreading the joy of vegan food they left successful careers to reinvent themselves as restaurateurs. The food is tasty without being fussy, and there are appetizing choices for vegans—and the friends they schlep along—alike.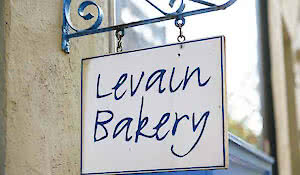 Levain Bakery
Levain Bakery is almost as famous for the long lines that snake outside its doors as they are for their oversized and delicious cookies. While the original bakery on 74th remains a popular destination, their larger annex on Amsterdam is light, airy and gives you five times the space to partake in the chocolate chip walnut, everyone's hands down favorite.