Rachel: I was seeing this therapist downtown. He was incredible. I had to end it.
Zoe: It's for the best. Long distance relationships are hard.
POMANDER WALK
TREASURES YOU KNOW
For many Anglophiles, quaint and English are synonyms. Nowhere is that more true than on a hidden "street" filled with flower boxes and nearly 30 Tudor-style homes right in the heart of the Upper West Side. Nestled in the middle of the block between Broadway and West End and cutting from 94th to 95th Street, Pomander Walk is almost hidden from view, fitting for homes developed by Thomas Healy, one of the first to be indicted under Prohibition laws. Peer through the gates and you can see English gardens and homes brought to life by an Irishman in New York who was inspired by a Broadway play of the same name. Designed in 1921 and declared a Landmark in 1983, Pomander Walk is as picturesque as it is private, looking much the same as it did when famous residents like Humphrey Bogart made their home here.
LOTUS GARDEN
And ones still hidden in plain sight
Look up and even then you might miss it. Perched above an unassuming garage on West 97th Street, there is a lush and magical garden with winding paths, fish ponds and fruit trees, flowers and herbs—and benches to sit and take in all the beauty. It's a community garden, tended to by volunteers for over 35 years. For a small donation, anyone can secure a key and with it the right to swap the bustle of the streets for the quiet beauty of nature (and when a plot opens up, the actual chance to plant!). The key to some parks might be a mark of privilege, but a key to Lotus Gardens just shows you love nature, and are in the know.
ARTHUR ROSS TERRACE
Tucked behind the Museum of Natural History, with a pictureperfect view of the planetarium, is the Arthur Ross Terrace. One doesn't need to know that the floor design of the fountains and walkways were inspired by lunar eclipses to appreciate the thoughtful design or to feel the calming and inspiring effect of this hidden city gem. On the same sunny stretch of grass, you'll find ginkgo trees dating back 300 million years alongside frolicking three-year-olds who have discovered a fountain they are allowed and even encouraged to play in—which leaves parents smiling as well.
CULINARY SCENE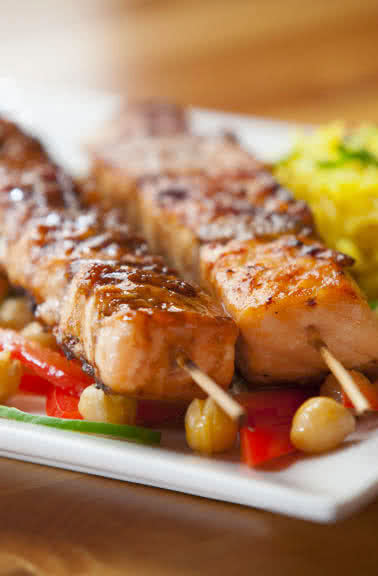 HAIM'S WILD SALMON SKEWERS
A recipe from a local chef:
"My grandmother Dona Danon was born in Izmir, Turkey and is the inspiration for my cuisine. Her classic Sephardic recipes have been passed down in my family and I am happy to share them with my neighbors."
—Haim Amit, local chef and foodie
INGREDIENTS 
Salmon
Salt & Pepper
Pomegranate Molasses
Basmati Rice
Celery Root
Carrots
Currants and Scallion
White Onion
Parsley
Cilantro
Turmeric
PREPARATION 
Step 1
Cut salmon into cubes and slide on skewers. Grill at 500° for 2-4 minutes for medium rare (or until about 145-150°). 
Step 2
Prepare rice according to directions. Stir fry all veggies together until almost soft. Add rice and spices. Fry until crisp. 
Step 3
Top salmon with pomegranate molasses. Place rice in a round bowl for shaping. Spread currants and scallion over salmon. 
RICE 
Fry rice with chopped celery, carrots and onion. Add spices, water and turmeric.